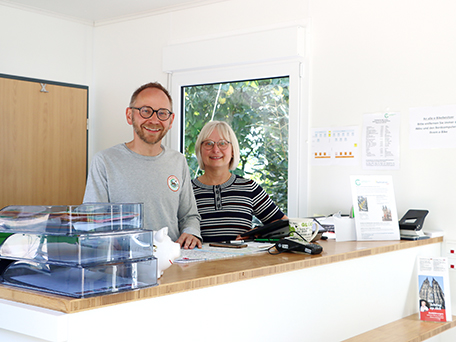 There for you
Opening hours
The reception is open daily in the season from 08:00 to 12:00 and from 15:00 to 20:00.
The arrival must be made by 8 pm.
The kiosk is open throughout the season, if there is no one in it, come to the reception.
The barrier that secures the site is open during the day from 8 am to 10 pm.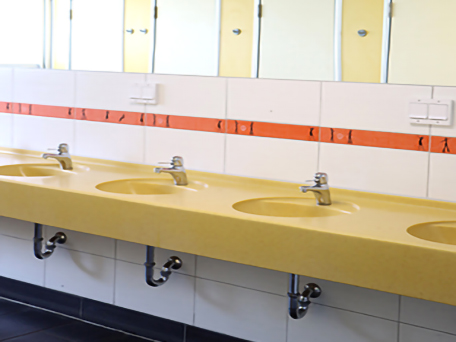 Our sanitary building is located on the 1st floor and is reached via an external staircase. For those who need to avoid stairs, a WC with shower is available barrier-free on the first floor.
The sanitary building is open around the clock. We clean several times a day. And even if special hygiene measures are required in the 2022 season due to the pandemic situation: We will do everything to ensure that you can feel safe with us.
Oh, and if you have forgotten something: In our kiosk you will also find shampoo and Co.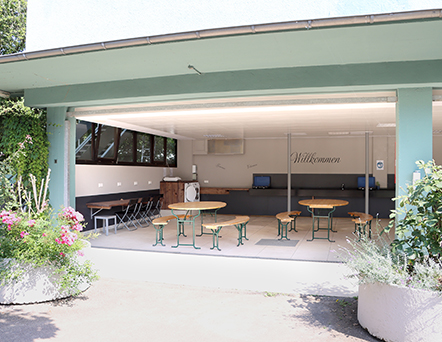 All clean
Kitchen/Washing
In our open kitchen, 2-burner gas stoves are available for free use by our guests. Of course, also seating and a "library" where books and games can be borrowed. Make yourselves comfortable with us. And for those who want to do laundry: the washing machine and dryer can be used for a small fee.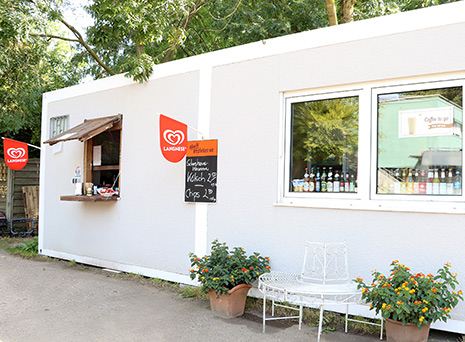 Our kiosk has everything you are missing or that could make you happy. From bread service on weekends, coffee, tea and Schreckenskammer-Kölsch, Fritz-Limos, ice cream and chocolate, chips and cookies, bread and butter, jams, sausage, cheese and eggs – and of course everything else for the "daily needs", to hygiene products: Directly on the square!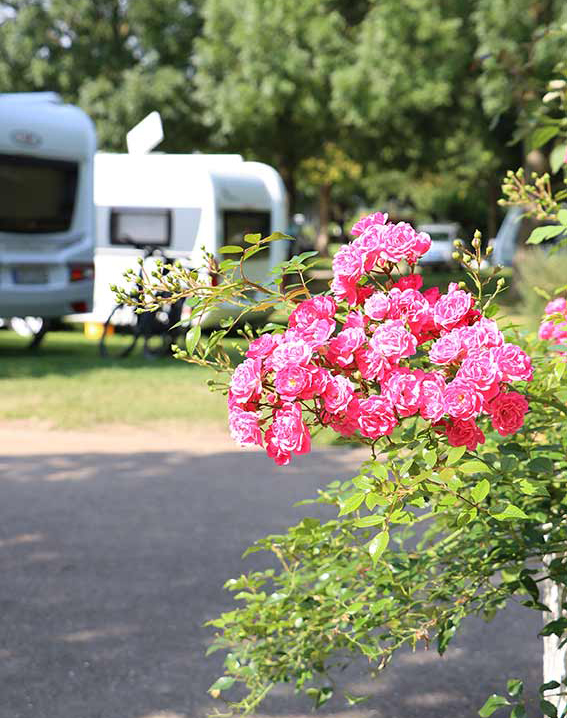 Fireplaces - Barbecue
Our campsite is located in a protected landscape area, so there are a few requirements from the Parks Department, the Environment Department and the Fire Department. Open fire is prohibited! This also includes cooking and grilling with open fire on the campsite.
Youth Protection Act
The law for the protection of minors states that we no can and will accommodate unaccompanied guests under the age of 16 traveling alone. On our homepage you will find a form that must be filled out completely by the parents, including their current phone number. Without this consent form we will not be able to accommodate anyone, We ask very much for your understanding! You can find the form here.
Please fill out the form completely and have it signed by the parents and the supervisor. Without the form, unfortunately, no overnight stay.
Night rest
Night rest begins at 22:00. All guests and ourselves contribute to the camper community to spend a quiet and restful night. For this, mutual respect and the observance of certain rules are absolutely necessary. Is it not self-evident?
Dogs
Dogs are welcome. In doing so, we assume that you know your pet well and ensure that things will work out peacefully and socially with each other. The "business" should do your darling outside the square. There is a leash rule in the square. And if your four-legged family member vouches for you, then you may stay with the dog with us ;-).
Arrival and departure
The reception is open daily in the season from 08:00 to 12:00 and from 15:00 to 20:00. The arrival must be made by 8 pm.
On the day of departure you must leave the pitch – clean – by 12:00. If you want to leave later, you can use our late check-out – for a small extra charge – please ask at the reception if it is possible.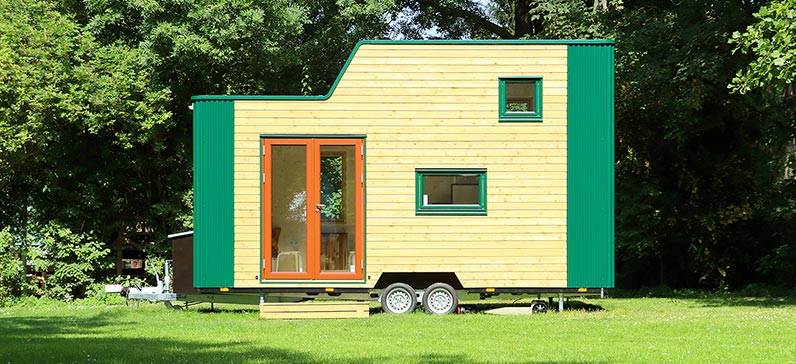 Faithful soul
Permanent campers
Even if the campsite is mainly visited by day guests: We also look forward to guests who would like to stay longer, whether as a vacationer or because on business in Cologne.
For the 2022 season, all permanent places are already fully booked for the entire duration of the season. But if you want to stay for longer than a few days:
When it gets cold
Winter pitches
During our winter break (November to February) we offer parking spaces for caravans and motorhomes on our premises.
If you are interested, please contact us here .
The parking places are uncovered on our place, on the asphalt surface.